Family Activity Book
The Hampton Roads regional environmental educational committees have come together and developed a 24-page Family Activity Book. To obtain your free copy, contact your local representative.
A sample of the book can be printed by downloading the following PDF pages. Acrobat Reader is required in order to download the book. If you do not have Acrobat Reader, you can download a free copy from this site by clicking on the Adobe icon.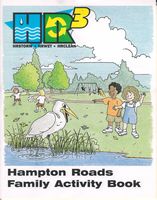 Click Here for your Sample Book>>
Family Activity Book (1108kb)