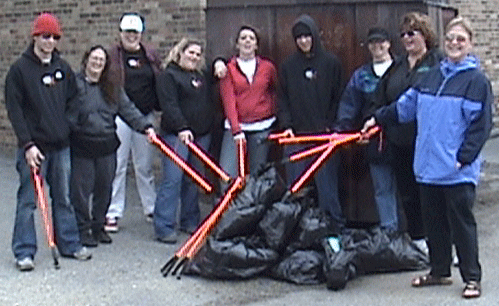 Pictured here: Dedicated volunteers of the 96X radio team, and (R to L) Mary Jo Knapp, Julia B. Hillegass, Senior Planner, Environmental Education for the Hampton Roads Planning District Commission and Denise Jefferies, Newport News Clean City Coordinator. On cold and rainy April morning, this group collected over 100lbs. of debris from the ditches and side areas of Newsome Elementary School in Newport News. This clean up was the result of a contest in which listeners were able to call in and report the worst sites in Hampton Roads. Beat their record!
WHEN: As soon as you sign up!
WHERE: All Over Hampton Roads
WHY:
They're OUR roads and parks...rivers and canals. It's up to US to keep them clean. Adopt Hampton Roads...if not you, then who?
Contact your local Clean Community Coordinator to sign you, your family, or group up today - and Adopt Hampton Roads!
Litter, graffiti, unkempt streets, roads, blocks and parks. Far more than just unsightly, these are symptoms of uncaring behavior - and a wake-up call for citizens who are concerned about their community's quality of life. Hampton Roads needs your help in answering that call! This spring, you, your family or group can make a visible difference in every community in Hampton Roads by joining us for "Adopt Hampton Roads Day". Contact your Clean Community Coordinator today and adopt Hampton Roads!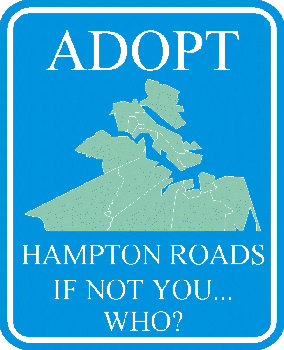 Members of Bethel High School Skills USA cleaned up portions of Big Bethel Rd.
in Hampton to celebrate their participation in the Spring 2003 Adopt Hampton Roads program. Pictured above, (L to R) are Darnell Berry, Virginia Owens, group sponsor, and Ronald Hall. Thanks for the great work everyone and for keeping Hampton Roads Clean!
To see the 2002 events, click here to open the Adopt Hampton Roads Photo Album.